Workers get hurt on the job every day in Douglasville, Georgia. Many of them have no idea what their rights are and how to protect them, and they make mistakes that end up costing them their workers' comp benefits. If you were hurt at work and you want to know exactly what your rights are and how to obtain them, you should consider discussing your case with a Douglasville workers' comp lawyer. Until you do, the following advice may come in handy.
Basic Steps to Take When Hurt on the Job in Douglasville, GA
Here are the steps you should take after being hurt at work in Georgia:
1. Report the Injury to the Employer
After being hurt on the job, your priority should be to receive immediate medical attention and report your injury to the employer. If your injuries are too severe and you cannot report them yourself, someone else will do it for you, probably your direct supervisor.
After reporting your injury to the employer, you should request a copy of the employer's report to the insurer. If they refuse, they probably have no intention of reporting your injury, case in which you should contact the insurer yourself and consult a Douglasville workers' comp attorney.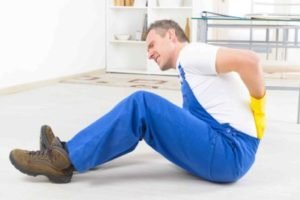 In order to report the injury to the employer's insurer, you should use the phone number displayed in your workplace. If you cannot find it and you do not know who the insurer is, you can call the Coverage Desk within the State Board of Workers' Compensation at 404-656-3692 to find out.
2. Seeking Medical Treatment with the Employer's Approved Board of Physicians
Except for emergency care, any other type of medical interventions and treatment should come from one of the employer's approved board of physicians. If they do not have the information posted at your workplace, you should be able to obtain the list from the insurer.
In case your injuries are severe and exceed the competence of the physicians on the employer's panel, one of these physicians will refer you to a specialist. In order to receive workers' compensation benefits, you have to be treated by the employer's approved doctors.
3. Await the Insurer's Answer to Your Claim and Act Accordingly
If the insurer approves your workers' compensation claim, all you have to do is follow the prescribed treatment, focus on your recovery, and enjoy the benefits. If the insurer approves only some benefits and you are not satisfied with their resolution, they deny your claim, or they terminate your benefits ahead of time, you can file a workers' comp claim with the State Board of Workers' Compensation.
As you may have realized, these steps are not exactly easy to follow, and any mistakes you may make could cost you your right to workers' compensation benefits. To avoid mistakes and make sure you receive the due benefits and enjoy optimum medical care, you should consider hiring a workers' compensation lawyer.
How Can a Douglasville Workers' Compensation Lawyer Help with My Claim?
During the first meeting, the attorney will most likely review your case and tell you whether you are entitled to workers' compensation benefits or not, and what the law stipulates for cases like yours.
They will also explain the steps you need to follow in order to receive those benefits and, more important, what mistakes to avoid as they could jeopardize those benefits. Here is a list of the most common and costly mistakes when it comes to workers' compensation claims:
Failure to report your injuries to the employer

Failure to attend the employer's treating physician

Refusal to resume your activity

Working elsewhere while receiving Temporary Total Disability Benefits

Including false information in your workers' compensation claim

Refusing to take a drug test
At this point, although you probably have all the information you may need, the thought of having to file all those forms and deal with your employer's insurer and approved physicians can seem intimidating. It may help to know that your Douglasville workers' comp attorney can take over most of these hassles and provide you all the support you need after being hurt on the job.
Reach Out to an Douglasville Workers' Comp Attorney to Discuss Your Case
If you have not yet contacted a Douglasville workers' comp attorney after being hurt on the job, reach out to the law office of John B. Jackson. Besides benefiting from a free review of your case, you will also benefit from our 100% satisfaction guarantee. According to it, should you, for any reason, decide to give up our services within 30 days from contracting them, we will not charge you. We look forward to helping you receive and enjoy the workers' comp benefits you deserve.