If you have experienced an injury in the Douglasville, GA area, a Douglasville Personal Injury Lawyer can advise you of how to recover damages if your personal injury is completely disrupting your life.  Severe injuries can lead to extensive medical costs and missed pay among other significant losses. Long-term infirmity and incapacity may occur as a result of accidental injury, causing extreme detriment to your financial status, home life, and recreational enjoyment.
If something like this happens to you, you need a personal injury lawyer who will compassionately walk you through the process of gaining the compensation warranted by your accidental injury. Skillful and accomplished personal injury attorneys eagerly await you at the Law Office of John B. Jackson and are prepared to use their extensive legal experience to obtain justice and restitution for your accidental injury.
We can guide you through the legal process of recompense, just as we have aided previous clients in collecting millions of dollars in amends for personal injury through our skillful judicial navigation and guarantee of professional and supportive treatment of our clients.  Let our injury attorneys help you too.
Neither your quality of life nor your fiscal footing should have to suffer as a result of an accidental injury. Get the compensation you deserve and the rehabilitation you require by getting in contact with our Georgia personal injury law firm.
All too frequent an occurrence in the United States, mishaps and accidents can often result in personal physical impairment and crushing financial damage resulting from the imprudent and neglectful actions of others. The Law Office of John B. Jackson will ardently deliver a trusted Georgia injury lawyer that is sympathetic to the client for the subsequent types of accidents:
Injury Lawyers Specializing in Dog Bites
If you are asking any of the following questions, you need to contact the Law Office of John B Jackson and ask for one of our injury lawyers specializing in dog bites. These questions are:
Do I need a lawyer for a dog bite?
How much can I sue for a dog bite?
What happens if a dog bites someone on your property?
If you are wondering about these questions or others relating to dog bite injuries, call John B. Jackson for a FREE consultation. Learn about defending dog bite cases and get these questions and more answered. Contact them today at 770-988-6155.
John B. Jackson's personal injury attorneys will be happy to talk about your dog bite claim, dog bite court cases, defending dog bite cases and even what happens when a dog bites another dog, along with a variety of dog bite case settlements. They can handle a dog bite lawsuit and can even offer advice on how much you can sue for a dog bite. The John B. Jackson law firm has knowledgeable and experienced personal lawyers defending dog bite cases in the Douglasville area.
Annually, there are 4.5 million injuries related to dog bites in the United States, according to the Centers for Disease Control and Prevention (CDC).  Children ages 5 to 9 are bitten more than any other group.  More than half of dog bites come from a dog that the victim is familiar with and occur in the home of the dog owner.  There are several situations that may lead a familiar dog to bite such as the dog being sick or injured; however, the core of these attacks is caused by owners that are negligent or just plain reckless. Any dog owner is required to have their pet on a leash when not on their own property; however, an irresponsible owner will ignore this allowing the dog to attack or injure other people. Injuries that can be the result of an attack are as follows:
Lacerations or tears to the skin
Wounds related to a puncturing of the skin
Tendons or muscles being torn
Infection or diseases
Mental anguish from the trauma of the attack
Many victims are concerned about pursuing a claim against someone they know regarding a dog bite incident.  Cases, where victims are bitten on the property of the dog owner, are typically handled through an insurance provider.  We can handle the negotiations and minimize your interaction directly with the dog owner concerning the claim.  This will allow you to focus on recovering physically and emotionally from the incident while our personal injury lawyer makes sure you receive compensation for your injuries.  If you or a member of your family has experienced a dog bite and need the assistance of a Douglasville dog bite injury lawyer, please call us today.  We can help.
Premises Liability Lawyers
What is a premises liability lawyer? If you are looking for a premises liability lawyer near you, or a product liability lawyer near you chances are that you have questions about an accident or injury that happened on someone's premises, either a personal injury on private property or public. Owners of property are obligated to maintain their properties under federal, state, and local laws and keep them safe for visitors that are authorized and people doing business on the property.  Neglecting some aspect of this obligation is commonly the cause of accidental injury.
Therefore, the most common type of personal injury case, a premises liability case, is one where the property owner is seen as being accountable for injuries. People that have been injured in these premises liability cases are often considered to be the one responsible for their injuries due to their own carelessness; although experienced premises liability attorneys know that in many cases it is the property owner that is responsible for the damages and should answer for the injuries of the victim. The following are the most commonly sustained unintentional injuries, according to the statistics compiled by the Center for Disease Control and Prevention (CDC):
Injuries from food poisoning – Examples of negligent behavior that causes food poisoning include poorly handling raw foods, undercooking meats, inadequate refrigeration or storage of foods, negligence in inspection, and contamination of ready-to-eat foods. The most dangerous diseases that commonly result from food poisoning include salmonellosis, Listeriosis, Botulism, Norovirus, and Campylobacteriosis.  All of these diseases can potentially cause long-term health issues or possibly be fatal.
Lacerations and contusions – Essentially cuts and bruises, laceration and contusion injuries can include head injuries from falling objects, abrasions from inadequately maintained elements of a property, or puncture wounds from a sharp object. Dangers involved in lacerations and contusions are potential infections, hematomas, and scarring.
Injuries from a slip or a fall – falls resulting from slippery conditions that are negligently created, a spill that isn't cleaned up, or inadequate safety railings may fall under premises liability. Slips and falls can cause lacerations, broken bones, and sometimes more serious and long-term injury.
Injuries occurring from an individual being struck by something or struck against something – Examples may include being struck by a flying or falling object, loose fixtures or poorly designed or installed shelving that causes and individual to be injured or being struck by poorly stocked merchandise.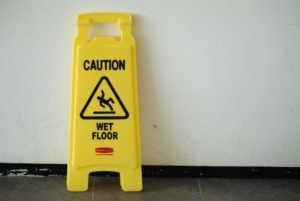 These types of accidents should be taken seriously and can involve serious bodily harm that may or may not heal like that of head and neck injuries, back injuries, fractures or cracks in bones, and muscle and/or tendon sprains and strains. These "accidents" are often the fault, not the injured party, but rather due to slippery floors, unlit or poorly areas, poorly maintained sidewalks, areas of construction and remodeling, and incorrectly handled food.  If you have been the victim of property owner negligence, please contact our Douglasville personal injury lawyers today to find out how we can help you.
Related: What To Do When Child Suffers a Day Care Injury in Douglasville
Product Liability Lawyers
A consumer product attorney may be required if you experienced a product injury related to a defective product that an owner, seller, distributor, designer, or manufacturer could be found responsible. If your injury is serious enough you could be awarded compensation for your injuries. a consumer product attorney, also known as a defective product lawyer, should be consulted with in order to evaluate your case. Defective and dangerous malfunctioning products are at the fault of one trillion dollars of injuries, deaths, and property damages each year according to the statistics of the Consumer Product Safety Commission (CPSC).
A common type of product liability case addresses negligence in manufacturer negligence.  A manufacturer may be held liable if it can be proven that the design of the product is negligent, the manufacturer failed to sufficiently test and inspect the product, inadequate instructions, warnings, or labels are provided, or the manufacturer failed to issue a timely recall notice. A database with a wide array of recalled products is maintained by the CPSC, such as the following:
Electronic products – Products that overheat or catch fire because of a design or manufacturing flaw, defective lithium-ion batteries that cause injury, or lawn equipment that is poorly designed or manufactured and presents a safety hazard.
Furniture and home appliances – Washers and dryers that are designed or manufactured in a way that causes fires or hazards to users, furnaces that leak dangerous gases or are not properly labeled with hazard warnings, and countertop appliances that suffer from electrical defects or cause fire hazards.
Transportation such as bicycles, motorcycles, and automobiles – A product defect can sometimes be to blame for a traffic accident. Although recalls are regularly issued, defects in the design and production of all types of vehicles can cause accidents that lead to serious injury, long term disability, and even death.
Clothes and toys for kids – When products intended for use by or for children are defective, the results are particularly devastating. Examples of these kinds of cases may include defective high chairs, strollers, or car seats, a dangerously designed toy, clothing that is flammable or have elements that present a choking hazard, and crib design or bedding that is potentially hazardous.
Recreational products, such as pools and spas – The elements most likely to be defective and cause injury in pools and spas to include drains that are improperly covered, ladders, slides, diving boards, heaters, and floatation devices.
Severe cuts and laceration, burns, bone fractures, choking dangers, and poisonings, including damage to your property or house, are all things that defective products can cause.  If you or a member of your family has suffered an injury as a result of a defectively designed or manufactured product, and you live in the Atlanta area, or Carrollton, or Douglasville GA, please contact a product liability lawyer in Douglasville at the John B. Jackson law firm immediately to discuss your next move.
Medical Malpractice Lawyers
How to find a medical malpractice lawyer near you: if you live in or around Douglasville, Lithia Springs, Austell, Clarkdale, or Winston, John B. Jackson can answer questions for you. Contact one of our medical malpractice lawyers for a FREE consultation today. We have a number of medical malpractice lawyers near you ready to answer your important, malpractice injury-related, questions.
In the United States, there are nearly one thousand patient deaths related to medical malpractice according to the Senate hearings on the quality of healthcare in the U.S. The amount of deaths related to medical malpractice have climbed to the third larger cause of death in the United States provoking a cry for standards of safety to increase.  As a general rule, the duty of care that is an obligation of a physician to their patient is breached when the physicians fail to act or perform in a way that a similarly trained and experienced doctor reasonably would. To obtain the compensation you deserve, our team of medical malpractice lawyers will work hard on the following types of cases:
Infections received while in the hospital or while receiving medical services – These infections may be caused by insufficiently sanitized equipment or systemic issues with contamination in the hospital because of inadequate training and supervision.
Errors that occurred in surgery or anesthesia – Examples of errors concerning anesthesia include failing to monitor vital signs, turning the pulse oximeter warning off, unsafe use of devices or equipment, or failing to intubate.
Injuries sustained as a result of drug-related errors – Sometimes physicians negligently prescribe or administer drugs to patients, recommend drugs that interact causing injury or neglect to inform patients of the dangers and side effects of a particular drug.
Abuse or injuries sustained in a nursing home or care facility – In some cases, victims suffer outright abuse and in other cases, negligent facility design or professional care produces injuries that could be reasonably avoided.
Misdiagnosis – Behaviors that can indicate a negligent misdiagnosis include neglecting to listen to a patient and identify key indicators of disorders and diseases, not considering individual and family health histories, inaccurately assessing test results, and failing to order the appropriate tests and procedures.
Any of these situations can be fatal and the doctors and medical care providers are responsible for your damages caused at their hands.  Our experienced and knowledgeable personal injury lawyer is ready to help you understand how to move forward when you or a member of your family has been the victim of medical malpractice.

Contact an Experienced Personal Injury Lawyer Today
How do you know if you need a personal injury lawyer? If you have been injured and it was the fault of someone else, you may want to think about contacting an attorney to see whether or not you have a case. But when to contact a personal injury lawyer? It is best to contact an injury attorney as soon after an accident as you can because your recollection of the accident and important facts will be clearer in your mind.
If you're looking for an experienced personal injury lawyer near you to talk with, rest assured at the Law Office of John B. Jackson we have attorneys that clearly understand your needs. They know that the injuries and damages you have suffered can be severe. So if you are looking for a personal injury lawyer near you that is professional and passionate, contact one of our injury lawyers today so that we can get to work immediately on helping you get the compensation you deserve for the damages you received.
According to Georgia law, you could be entitled to receive compensation for your losses and funds to pay expenses you incur from medical services, wages lost from missing time at work, and damages to your property. In severe cases, punitive damages may be awarded in order to discourage similar future behavior by the defendant and others in their position.
You deserve a team that has a positive record of success in prevailing in cases for their clients when it comes to situations pertaining to your health and financial security. Our sole purpose and goal is to protect your rights in Douglasville and the surrounding areas. The personal injury lawyer at the Law Office of John B. Jackson in Douglasville is here to see that you get the help you need. So call us today for a FREE consultation at 770-988-6155.
3400 Chapel Hill Rd Suite 100, Douglasville GA 30135.