John B. Jackson is one of the most accomplished personal injury lawyers in Georgia that can get you the best settlement for your Uber accident claim. If you or a loved one have been injured in an accident involving an Uber, call our law offices today to receive a risk-free consultation with an experienced Carrollton Uber accident attorney.
What is a Georgia Uber Car?


In Georgia, an Uber car is a cheap and safe taxi service. Riders are able to hire a local driver to pick them up and take them to their destination for a fee. Anyone that wants to use the service can download an application on their smartphone and request a ride by simply tapping the button on the phone. A driver will accept the job and be on the way to pick up the rider in minutes. Riders can even use the GPS system on their phone to track the status of their driver while they wait for them to pick them up.
Anyone driving for Uber has to be at least 21 years old and have access to or own a 4-door vehicle in good working condition. Georgia will have specific requirements as to the type of vehicle that is acceptable to drive for Uber, but in most cases, the car cannot be more than 11 years old. Drivers must also have current insurance and registration on their vehicle and have their driver's license for at least one year. No driver with a major criminal history can drive for Uber.
How Can I Get My Son's Medical Bills Paid?
After your accident, not only is your car a total loss, there are extensive medical bills for your son's injuries as well as for other family members in the car at the time of the accident. Once you have sought medical assistance, you may be unsure where you need to go to get assistance in getting the driver's insurance company to pay for your injuries. A consultation with a dedicated personal injury attorney can help clear up many of the questions you have about your case. An Uber accident lawyer will be able to review your case and let you know what damages are eligible for compensation. Some of the costs that the other driver's insurance company are responsible for are:
Medical expenses
A rental car
Your lost wages if you are unable to work
Repairs for your car or a replacement vehicle
Pain and suffering
As a resident of Georgia, you will only be able to collect $250,000 for punitive damages from the Uber driver responsible for your accident. The state Supreme Court set a limit on the amount a driver can receive as a penalty for their fault in an accident. It may not seem like enough, so you need to know there is no limit on the amount you can get as compensation for damages resulting from the accident like pain and suffering. A dedicated personal injury attorney will be able to let you know what specific amount you and your family may be able to receive.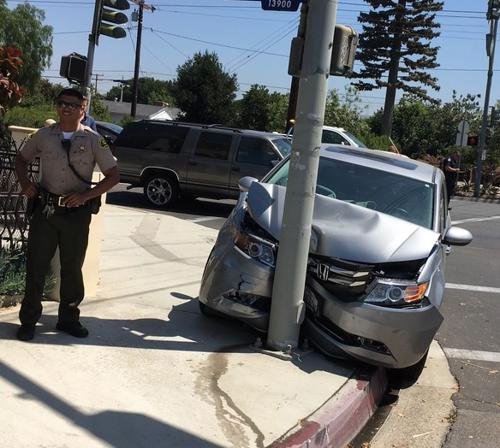 There are times when injuries from a car accident are bumps and bruises, but that is not the case with your accident. Your son has serious injuries and some paralysis making it necessary for him to have ongoing medical care. It is also possible that other injuries for your son or other family members in the vehicle may not become visible until well after the accident. It is imperative that everyone in the car accident in Georgia seeks medical attention regardless of whether or not they are in pain. An immediate physical examination will serve as documentation that the accident victims were actually in a car crash with an Uber car.
Related: What To Do in Hit and Run in Carrollton, GA?
What Are Some of the Expenses I Can Receive for My Georgia Uber Car Accident?
There are many expenses that may be the result of a vehicle accident in Georgia. Once you receive medical treatment for your family, your insurance claim can include expenses for the following:
Charges from riding in an ambulance
Charges for therapy for physical and cognitive therapy if anyone has a brain injury
Fees for consultations and examinations from various physicians
Medical devices like heating pads and crutches
Charges for in-home care services (even if they are not for medical care)
Permanent disability
If after the settlement of your insurance claim your physician feels more therapy or medical treatment will be necessary, your personal injury attorney can add the estimated charges to your claim. They will most likely work with medical professionals to estimate the costs for these necessary services. An Uber driver that is liable for the death of another motorist may have to pay for wrongful death and any medical bills associated with the accident up to the time of the victim's death.
Can I Get Pain and Suffering for My Accident With a Georgia Uber Driver?
The state of Georgia and other states define pain and suffering as physical and mental hardship that a person can seek reimbursement for. All pain and suffering damages are subject to scrutiny in terms of the type of injury and the diagnosis for future pain relating to the injuries. The claim can also include emotional and mental harm resulting from the accident like stress and anxiety. There are even some states that permit pain and suffering reimbursement for the loss of the enjoyment of life. A Carrollton Uber car accident attorney can fight to make sure your family receives the compensation for any and all issues (physical, mental, and emotional) relating to your accident.
Can My Son Receive Lost Wages As a Result of a Georgia Uber Accident?
If you are the victim of a car accident, the injuries you sustain may cause you to lose your source of income if you are unable to work. You may have to attend physical therapy or stay in the hospital for an extended period of time. It is even a possibility that you will not be able to earn money in the manner you did prior to the accident. If you can prove your injuries will keep you from earning money now and in the future, you can sue for your lost wages. A dedicated Lyft accident lawyer will make sure a jury takes into consideration your age, job, experience, skills, and how long you are expected to live when considering your pain and suffering claim.
What Other Compensation Can I Receive in Georgia for My Car Accident?
If the car accident you are in will deprive your spouse of the ability to show affection (including sexual relations), the spouse that was not injured can sue to recover damages. You will have to be successful in recovering compensation for your accident injuries for this type of claim to receive compensation. A personal injury attorney can discuss the specifics of your case and determine if your claim qualifies for this type of reimbursement.
Another type of claim to consider is the loss of companionship in the event of death after a car accident. When deciding this particular claim, juries will decide if:
The deceased victim was in a loving and harmonious relationship with the spouse initiating the claim
Their living situation
How the death of the victim impacts the remaining family members
There are many factors to consider after you or a family member is the victim of an accident with an Uber driver in Georgia. You will have much more to deal with than getting your vehicle repaired or replaced if there are physical injuries relating to the crash.
Can a Carrollton Lyft and Uber Accident Lawyer Help Me?
The best way to determine if a Carrollton personal injury lawyer can help you is to schedule a consultation to talk with them about your case. They will be able to review your case to see if it qualifies for legal action against the driver that hit your vehicle.  The attorneys at the Law Office of John B. Jackson can negotiate with the driver's insurance company to make sure you receive all the benefits for which you are eligible. When you are the victim of a car accident, the only thing you should concern yourself with is getting the medical attention you and your family members need. Call today for a no-obligation consultation to discuss your case with a dedicated Carrollton Uber accident attorney.