The Law Office of John B. Jackson is here to help you if either you or a loved one were injured in an unprovoked dog attack. A Carrollton dog bite lawyer is here to help. We regularly handle cases involving animal attacks. If you work with us, we'll make sure you're compensated for any injuries that you've sustained.
If you have been hurt or injured by a dog bite speak to one of our Georgia personal injury lawyers and schedule a risk-free consultation.

Who Should I Report a Dog Bite to?
It's important to file a report with the police department. The officers will be able to find the dog that attacked you and identify their owner. You should also contact Animal Control. If you need immediate medical care, you'll want to call for an ambulance. Otherwise, you'll want to visit your doctor as soon as possible. Even if the bite doesn't seem serious, you may need to have your doctor give you rabies or tetanus shot. Once your injuries have been treated, you should get in touch with the Law Office of John B. Jackson. You'll need proper treatment for your wounds. You may also need to take time off work in order to recover. We can make sure you're properly compensated for this.
What Happens When I Report a Dog Bite?
The events after a bite has been reported will vary based on the circumstances of your situation. If the dog has never bitten someone before, the owner may be required to register their dog as dangerous. If the dog is a dangerous breed, or if the dog has attacked someone before, you can take legal action. Part of winning a dog attack claim is proving that the owner was aware that their pet demonstrated aggressive behavior.
If a dog has not demonstrated aggressive behavior in the past, then legally, the owner is not liable if they bite someone. This rule, which is often referred to as the "one-bite rule" doesn't apply to aggressive breeds. This includes breeds that were created for fighting, like Canary Mastiffs, breeds that are known for being aggressive, like pit bulls and Rottweilers, and any dogs that are wolf hybrids. According to the nonprofit organization DogBites.org, pit bulls and Rottweilers were responsible for the majority of fatal dog attacks in the last decade. However, it's important to be aware that all dog breeds are capable of aggressive behavior.
Who Can Be Held Liable in a Dog Attack?
The owner of the dog is responsible for the injuries that their pet caused. If you want to find out whether or not you have a case, you should set up a consultation with the dog bite attorneys at the Law Office of John B. Jackson. We're focused on making sure that victims receive the care they need so that they can properly recover. We also want to make sure the dog responsible for the attack doesn't injure more people.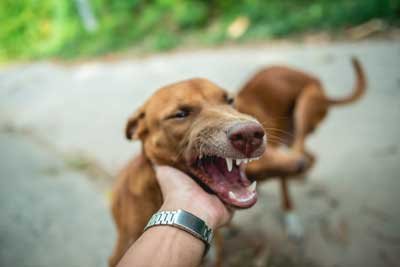 How Much Money is a Dog Bite Case Worth?
The amount of money you are eligible to receive in a dog bite case varies based on many factors. You can be awarded funds to cover your medical expenses and lost wages, and you can also receive money for pain and suffering. The award may be higher if a child or a younger woman was the one attacked. People in these groups may need more care because of scarring. Psychological care may also be necessary.
What Happens if I Was Bitten By a Dog While Working at Someone's Home?
If a dog bit you while you were working at another person's house, you have the option of filing a personal injury claim. It's the responsibility of a homeowner to provide a secure environment for workers and to control their dog when strangers are in the house. Dogs that haven't been properly trained should be crated when visitors are over. Even if a dog isn't aggressive, they could injure someone when they're attempting to be affectionate. Suffering an injury on the job also means you may be able to file a worker's compensation claim. If you talk to our personal injury attorneys, we'll be able to discuss all of your legal options with you. We may be able to help you file multiple claims.
Dog Bite Statistics
Statistics from the CDC state that around 4.5 million people suffer dog bites annually in the United States. Nearly 1 in 5 dog bites leads to an infection. Anyone bitten by a dog has a high risk of infection. That's why it's essential to receive medical treatment immediately. The complications from a dog bite can be fatal.
The group that is most likely to be seriously injured by a dog bite is children. Each year, over 800,000 people seek medical help after a dog bite. Nearly 50% of dog bite victims are children.
Certain breeds are more likely to display aggressive behavior. It's more common for dogs of these breeds to be poorly trained, which makes them more prone to aggressive behavior. For example, research shows that around 74% of deadly dog attacks were caused by a pit bull or a Rottweiler.
What Does Georgia Law Say About Dog Attacks?
Each state has its own laws surrounding dog bites and the requirements for filing a claim. In the state of Georgia, the "one-bite rule" is in effect, which means a lawsuit can't be filed if the owner did not know their dog has the potential to be aggressive. With that said, there are still consequences if a dog has bitten someone.
If a dog bite punctured the skin but did not cause a serious injury, the owner will need to apply for a certificate of registration that states they own a dangerous dog. Once the dog has been classified as dangerous, its owner is legally responsible for any dog attack injuries. They will need to make sure that their pet is securely enclosed, and they will also need to display warning signs stating that they own a dangerous dog. This rule will also go into effect is a dog has killed another pet.
If a dog attack has resulted in serious injuries, the dog is considered to be vicious. The dog's owner will need to have $50,000 or more in liability insurance to cover injuries from any future attacks. The dog will also need to be microchipped.
Even if a dog has never displayed aggressive behaviors, its owner is liable for any injuries the dog causes if the dog is not properly restrained. This includes instances where a dog escapes from its yard and cases where the dog is not properly leashed.
Contact Our Carrollton Dog Bite Lawyers
If an unprovoked dog attack in Georgia has caused either you or a loved one injury, you'll want to get proper medical attention first. Proper treatment can prevent infection and can protect you from other complications as well. Once you've received medical care, you should think about talking to a Carrollton personal injury lawyer. You'll be able to talk to experienced professionals at the Law Office of John B. Jackson that would be glad to assist you. You can consult with a lawyer about your case and find out whether or not you should pursue a claim.
We've helped many people in Carrollton get proper compensation after an animal attack. If you've been injured because of a dog owner's negligent behavior, you should take action. A lawsuit can cover your medical expenses and more. If you'd like to find out more about your legal options, contact our offices today.