CARROLLTON, GA.  (February 1, 2018) – Alice's House is pleased to announce the appointment of John Jackson as board of trustees president. Jackson has served on the board since 2009 and will serve a two year term as board president. Current board members include Scott Barrett, Ben Butler, Sandra Morris, Cynthia Langley, Jim Camp, Bill Parrish, Andy Johnson and Chuck Conerly. In addition, Stephen Allen and Tommy Gable have also joined the Alice's House Board in 2018.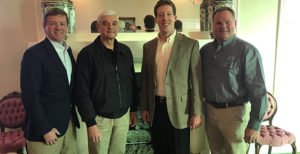 Mr. Jackson is a Carrollton resident with his wife, Mandy, and their twin girls, Milly and Kate. He has been practicing law for over 14 years and owns The Law Office of John B. Jackson in Carrollton. In addition to his Alice's House appointment, he also serves at the past president of the Rotary Club of Carrollton, on the planning and zoning board for the City of Carrollton and on the Board of Directors for the Carroll County Chamber of Commerce. He is also the past chair of the government affairs committee for the CCCOC.
Mr. Jackson takes over following the two year term of Scott Barrett serving as the board president. "Scott has done a tremendous job as president of the board", said Jackson. "I hope to continue his good work in this tremendous ministry."
Alice's House Board of Trustees is comprised of individuals from the medical, business, academic and volunteer communities of Carroll County. It is the Board's responsibility to provide counsel and guidance in the direction and operation of the house as well as it is to raise awareness of the services to the surrounding communities.
Opening in 1993, Alice's House is a non-profit organization dedicated to the welfare of children and recognizes the need for children to have a safe harbor from abuse and neglect. To date, over 250 children in need have been served. Children come to Alice's House for many reasons, including abuse, neglect and other challenging family situations. Our mission is to provide an environment in which these children can feel safe and thrive. Alice's House provides services based on the conviction that each youth in residence is an individual with the right to the kind of care that meets his or her needs. We believe it is important to preserve and strengthen each child's family relationships whenever possible. Most children are placed in Alice's House by the Georgia Department of Family and Children Services. Priority is given to the youth of Carroll County.