A lot of our clients tell us they had wished they hired us sooner in the process. They say this would have saved them from making costly mistakes regarding their car accident case. We agree. Our car accident lawyers in Carrollton always do their best to get their clients the compensation they deserve. 
However, it can be difficult to do this when a client makes car accident case mistakes early in the process. Here, we will discuss some of these mistakes and remind you of what you should do in the days and weeks after your crash. 
There's No Excuse for Not Calling the Police
The first thing you must do after a car accident is call the police. There is no good reason to not do this. The police will come out and do a thorough investigation of the crash. They'll document their findings in their police report. This report will be vital to your car accident case. Your car accident lawyer in Carrollton is going to need the information in this report.
Without the police report, your attorney may not be able to prove fault. Some of the valuable information in this report includes the following:
Contact information for the other driver

Statements made by both drivers at the scene

Insurance information for the defendant

Witness statements and contact information for these witnesses

Description of the accident scene

Description of road conditions

Information regarding any tickets that were issued at the time of the accident investigation
Since there is no other way to access this information, it is critical that you contact 911 immediately after the collision. 
Your Carrollton Injury Lawyer Needs You to Go to the Hospital
One of the biggest mistakes you can make in your car accident case is refusing medical treatment at the accident scene. The only way to document your injuries is by seeing an emergency room doctor immediately after the crash. 
Not only do you need to be seen by a doctor and cleared of any serious injuries, but your attorney needs those medical records. Even if your Carrollton injury lawyer can prove the other driver was at fault, if they can't prove your damages, you get nothing. 
It's Not a Good Idea to Try to Handle Your Car Accident Case Yourself
It doesn't matter what you do for a living, odds are, you don't have a lot of legal experience. Many of our clients have never had to sue anyone before. They're intimidated by the whole process. They've also never dealt with an insurance adjuster. They think they can handle their own car accident case lawsuit. After all, they've watched a lot of television dramas, so they think they know the terminology. They also have a couple of friends who are lawyers who have promised to help them along the way.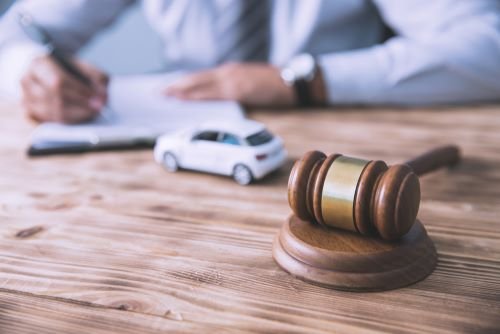 Even if you're an attorney yourself, you should never represent yourself in court. You know what they say about any professional who would have themselves as a client. It doesn't bear mentioning here, but it's not good. There is no way to objectively handle your own car accident case without being biased and prejudiced against the facts. This can significantly impact the outcome of your claim. 
Never Post About Your Accident on Social Media
As much as we warn our clients not to post about their car accident case on social media, many of them still do it. People are chained to digital devices and can't resist posting throughout the day. The problem is that anything you post online can be used against you by the defendant's attorney. 
For example, imagine that you broke your leg in your car accident. You can't go back to work for at least 6-8 weeks. You post a picture of you in your cast and say something about not being able to work until after the New Year. Friends jokingly comment that you're thrilled because you hate your job. The defendant's attorney can argue that you purposely got into the accident so you could have a mini vacation from your job. This may seem far-fetched, but it happens in car accident cases more than may think. 
Do Not Sign a Settlement Release Without Showing it to Your Car Accident Lawyer in Carrollton
When the insurance company knows they're dealing with a pro se claimant, they try to take advantage of them. It's nothing personal. They just figure they can save a lot of money if they don't have to go through a Carrollton injury lawyer. What they usually do is offer you a settlement of your car accident case claim. This offer is probably going to be a lot less than you deserve. 
However, they figure you are probably desperate for cash. With medical bills and mechanic's bills hanging over your head, you may be willing to jump at the first offer they make.
If you have an experienced car accident lawyer in Carrollton, they won't let this happen. If the insurance company sends you something called a "settlement release" for your car accident case, make sure you take it to an attorney to review. If they think you're being taken advantage of, they'll let you know. And, if you retain their services, they'll reach out to the insurance adjuster and let them know you're not accepting less than what you deserve.
To Protect Your Claim, Meet with an Experienced Carrollton Injury Lawyer
If you've been involved in a car accident, you're probably still recovering from your injuries. Even minor car accidents leave their victims with broken bones, whiplash, and back injuries. If the other driver caused the crash, they should be held accountable. The best way to do that is to hire an experienced Carrollton injury lawyer.
Our team of car accident lawyers in Carrollton have decades of combined experience handling these types of car accident cases. They know what it takes to get their clients the maximum amount of compensation. They also know what mistakes an accident victim can make to jeopardize their claim.
Rather than have this happen to you, at least take the time to meet with one of our car accident lawyers in Carrollton. They can review your paperwork and let you know what options are available to you. They can also look to see if you've done anything to ruin your car accident case. Since we offer our clients a free, initial consultation, just give us a call so we can set up a date and time that works for you. If you prefer, you can even schedule your first meeting through our website.