If you or someone you care about has been hurt in a truck accident in Douglasville, you need to focus on hiring an experienced lawyer who has extensive knowledge about this type of claim. When truck accidents occur in the state of Georgia, it can be a bit complicated since there are state and federal laws in place that may intertwine. It can also be tricky to determine how many liable parties there are.
The Law Office Of John B. Jackson is staffed with attorneys who are very familiar with these laws and the way that they overlap. They have the skills needed to effectively negotiate with numerous parties at the same time. The Douglasville truck accident attorneys at our firm have an excellent track record when it comes to unraveling even the trickiest cases and making sure that our clients get what they deserve after being involved in a truck or tractor-trailer accident.
If you would like to know how we can be of assistance to you, please complete a case review form and we will take a look; this is totally free of charge. You might have legal rights to get compensated for any damages and/or losses that may have occurred as a result of the incident.
What is the Process of a Truck Accident Lawsuit?
The following steps layout the process of a truck accident lawsuit:
Investigation
Right after the accident, the insurance company representing the driver of the truck will send researchers to the scene to gather any evidence in order to reduce their liability. Get in touch with our firm right away so that you have the opportunity to have someone conduct another investigation on your behalf.
Always keep in mind that insurance companies are all about profits and they will try to offer you a lower settlement than you deserve. While you are on the scene and while this accident is being investigated, do not talk to anyone about your injuries except for medical professionals that are treating your injuries and your personal injury lawyer. This is because insurers will be trying their best to find any information that can be used to deny your claim. Sit back and allow your attorneys to handle all of the settlement talks.
Creating A Claim
Your claim will be created with all of the information that was uncovered over the course of our investigation. It will contain a report about your injuries, the amount you are looking to recover and detail how the other person was negligent. This will be the basis for your suit and it is possible for this to be resolved by negotiating a settlement, in arbitration or during litigation.
Negotiations
Prior to filing your lawsuit, your car accident attorney may try working with the insurance company to negotiate a settlement that is acceptable to both parties. Once the suit has been formally filed, there is a chance that additional negotiations may occur. If they are unable to agree after multiple tries, the case will head to court.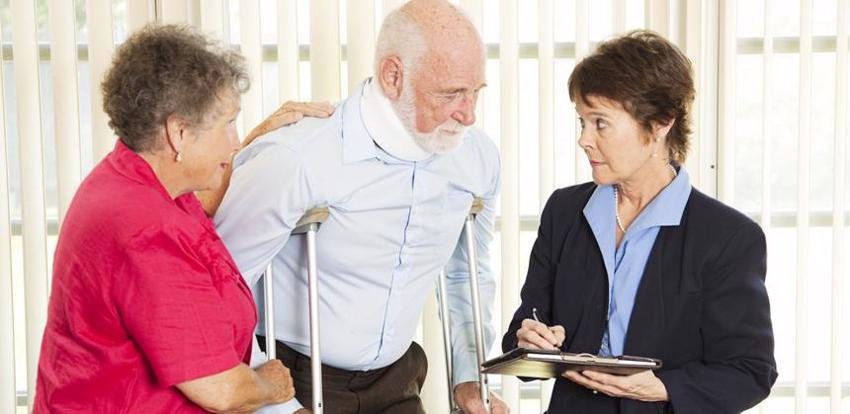 Litigation
The attorneys at our firm and those who are representing the opposing party will each have the chance to plead their case before a judge or jury. Once everything has been presented, deliberations will be made and a verdict will be rendered. This verdict will offer information about whether you have won your case and how much you are eligible to recover if anything.
How is Negligence Proven In A Truck Accident Case?
We do the following to pinpoint any negligent behavior:
Investigate whether a vehicle has had regular maintenance.
Reviewing the trucking company's records to ensure no regulations were violated.
Reviewing the driver's credentials to make sure they are valid.
Making sure traffic rules were followed
Looking over police evidence and photographs from the scene if the accident, speaking with witnesses and working with experts to recreate the scene.
Checking to see if the vehicle has any issues with manufacturing defects.
What Are The 10 Most Common Types of Truck Accidents?
Here at John B. Jackson, we have helped many clients who have had their lives affected by trucking accidents. There are many types of accidents that occur more often than not. Here are 10 of the most common:
Rear-End Collision
This is one of the accident types that occur quite frequently, particularly on highways that have major traffic. Read end collisions involving trucks have the potential to be extremely catastrophic. Depending on how much weight a truck is carrying, the results can be rather devastating. We have been involved in all types of rear-end collision cases involving trucks. This ranges from hitting a vehicle and causing a moderate back injury to crush an entire vehicle having all of the passengers perish.
Head-On Collision
This is probably the most dangerous type of accident there is. The combination of speed, mass, and momentum of a 40-ton vehicle colliding with a compact car. In this case, there is really no way for the smaller vehicle to win. Truck drivers work very long hours and they are forced to adhere to deadlines that are often far too stringent. When they are rushing to reach their destination and fatigue sets in, this is a recipe for disaster. This is undoubtedly the most dangerous type of truck accident there is.
Jackknife
This is when the trailer of a truck swings and causes the cab to bend toward the trailer. It is called a jackknife since that is what the angle of the vehicle resembles. This usually occurs when someone has hit the brakes too quickly.
Blown Out Tires
It is nearly impossible to avoid a disastrous outcome when a tire blows out on a vehicle, especially when it is a very large commercial truck. This is a catastrophic accident that can cause a high level of damage. This firm had a case once where there was a blowout on a truck and it went across the median of a large highway and crashed into oncoming traffic.
Truck Rollovers
Unfortunately, this is a very common type of accident. If the tires on a truck do not grip the road as they should, the driver cannot control the vehicle and it can rollover. Load, gravity and truck type all play a factor when it comes to this accident type. Whether you believe it or not, a vehicle can be going as slow as 5 mph, but a load shift on a ramp or a curve can cause the vehicle to topple over. We worked on a case where heavy tiles were not secured correctly and they cause the truck that was carrying them to roll over as it was coming off an exit ramp.
Air Brake
Before trucks go out on the road, it is required that the brakes are inspected, and for good reason. Bad air brakes can cause major accidents when the vehicle is going down a hill. If the brakes fail, this means that the vehicle will not be able to come to a stop. Since stress is placed on the brakes regularly, it is important that they are checked on a consistent basis.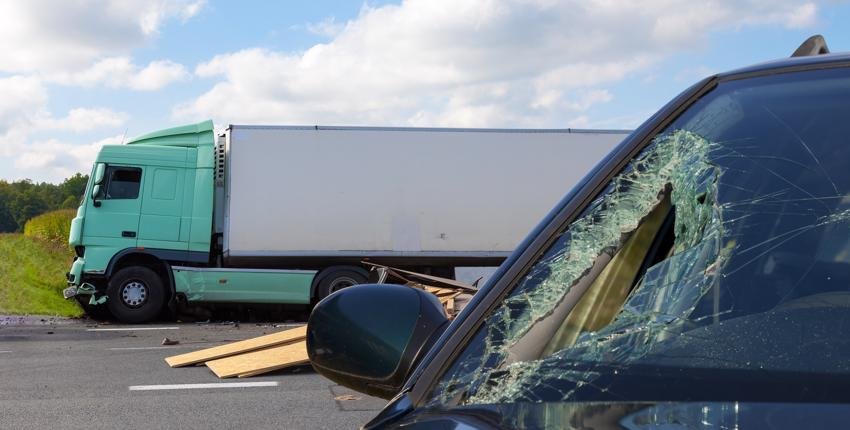 Under-Ride
Life-changing head injuries and death may occur if a smaller vehicle goes underneath a truck, especially if the truck stops unexpectedly. In the US, most trailers have guards that were created to prevent this, but they are not always very effective. These guards are also found in Europe to prevent larger vehicles from riding over smaller vehicles when driving in places that are not well lit.
T-Bone
When tractor-trailers collide with vehicles from the side, especially on the driver's side, it often results in death.
Lost Load
It is the responsibility of the driver to make sure their load is secure before they head out on the road. They are also required to stop and double-check this at certain intervals. If they decide not to follow this rule, it can cause a serious accident.
Blind Spots
Blind spots are very common with larger trucks and it can make it extremely hard for them to change lanes while they are on the road. It is the duty of the driver to continuously check their mirrors to make sure that no other vehicles are approaching their blind spot. There are new technologies in place that can help truckers avoid issues with their blind spots. Motorists should also pay attention to trucker's blind spots when they are on the road.

What Type Of Compensation Is Available?
A victim of a truck accident may be able to recover these types of damages:
Current and expected medical costs
Lost wages
Mental anguish
Pain and suffering
Cost of a funeral
Call us now for a Free Truck Accident Consultation.
If you or someone you love has been hurt in a truck accident, you have legal rights. For more information about what your options are and how the Douglasville truck accident attorneys at the Law Office of John B. Jackson can be of assistance, give us a call complete a case review form as soon as you can.