If a dog in the Douglasville area has attacked you or someone you know, you'll want to reach out to the Law Office of John B. Jackson and speak to a Douglasville dog bite lawyer. Animal injury claims are our area of specialty. We'll make sure that your case is successful and will work to secure you the money that you're owed.
If you need a Georgia personal injury lawyer contact us and schedule a risk-free case review.

Where Should A Dog Bite Be Reported To?
Your first step should be to file a report at your local police department. If the injury is severe enough to require immediate medical care, you want to dial 911 as well. When you talk to the police, they'll be able to put together an official report. They'll work to identify the dog that attacked you and its owner. You should also contact Animal Control. Talking to the Law Office of John B. Jacobson can help you to obtain compensation from any medical expenses that you're left with because of your injuries. Recovering from these injuries can take time, and even smaller dog bites could put you at risk for severe medical issues like rabies. That's why it's essential to get the care you need and speak with an attorney.
What Can I Expect After Reporting A Dog Bite?
There are a number of things that can happen after a dog bite is reported. If the dog is a dangerous breed, or if it's bitten other people before, the owner may have a greater level of lability. The law states that owners need to be aware of their dog's inclination towards aggressive behavior. When we build a case for you, we'll need to collect evidence that demonstrates the dog owner was aware of their pet's aggressive behavior.
According to the law, a dog that is not part of an aggressive breed and has not bitten someone before can bite someone once without any consequence. Colloquially, this is referred to as "one-bite rule." Examples of aggressive breeds include Rottweilers, pit bulls, Dogo Argentine, Presa Canario, and wolf hybrids. According to the group DogBites.org, 74% of all fatal dog attacks in the last decade were caused by either Rottweilers or pit bulls. With that said, all dog breeds can show aggressive behavior.
Who Has Liability When A Dog Attacks?
The owner of a dog is responsible for any injuries caused by their pet. If you've been injured by a dog, you'll want to talk over your case with the dog bite attorneys at the Law Office of John B. Jackson. We're entirely focused on protecting victims of dog attacks and providing them with the proper compensation. We also want to ensure that the dog isn't able to harm other people.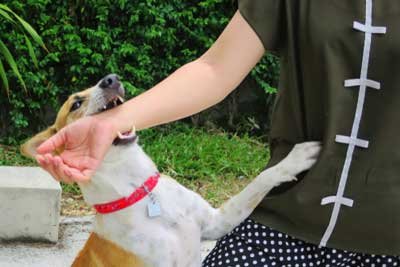 How Much Can You Receive From A Dog Bite Claim?
Dog bite cases are classified as personal injury cases. The amount you'll be awarded should cover your medical expenses, loss of wages, and the pain and suffering you experienced because of the attack. Dog bites can be especially traumatic for small children and younger women. These attacks can cause physical scarring and can also cause psychological trauma.
What If I Was Attacked By A Dog While Working At Another Person's Home?
If a dog bites you while you're working on another person's property, you have the option of filing a personal injury claim. It's the responsibility of a dog owner to provide a safe environment for any professionals that are working in their home. When a person is allowing strangers into their home, they need to train their dog to behave properly. Alternatively, their dog should be crated. Dogs can cause injury even when they're trying to show someone affection. In addition to filing a third-party claim against the owner of a dog, you may be able to build a worker's compensation case. Getting bitten by a dog on the job is similar to being involved in a car accident while working. If you talk to one of our personal injury attorneys, you'll be able to get the assistance you need with both of your claims.
Related: Can I Hold The Owner Responsible for Dog Bite Injuries If They Were Not There?
Stats On Dog Bites
Statistics from the CDC state that, in the United States, there are 4.5 million dog bites annually. Approximately 1 in 5 bites results in infection. That's why it's essential for these injuries to be treated right away. If you've been bitten by a dog, you're at high risk for infection. Delaying treatment could lead to serious complications.
The group that's most at risk for injuries from dogs are children. Every year, approximately 800,000 people need medical treatment after a dog bite. Nearly half of the victims of these attacks are children.
Certain dog breeds are more prone to displaying aggressive behavior. In many cases, these breeds are likely to be badly trained. This is one of the reasons that these breeds attack others so frequently. Research states that 74% of deadly dog attacks that took place between 2005 and 2014 were caused by either Rottweilers or pit bulls.
What Are Georgia's Laws On Dog Bites?
Laws regarding dog bite claims vary from one state to another. In the state of Georgia, there's a law that's commonly described as the "one-bite rule." This law states that a dog owner can only be held liable for injuries caused by their dog if they know that their pet is likely to bite someone.
In Georgia, if a dog has bitten someone, but that bite did not lead to a severe injury, the owner needs to obtain a certificate registering their dog as dangerous. From that point forward, the owner is legally liable for any injuries caused by their dog providing that the attack is not provoked. The owner will need to keep their animal securely enclosed, and they will need to clearly post warning signs stating that they own a dangerous dog. If a dog has killed another pet, this rule will still apply.
If a dog bite has caused a person severe injury, the dog is considered to be "vicious." The dog's owner will be required to have a minimum of $50,000 in liability insurance to cover potential injuries, and they will also need to have their dog microchipped.
Even if a dog does not have a history of violent behavior, the owner could be held liable for injuries if the dog is not properly restrained. This could apply if a dog is wandering outside of the owner's yard or if they do not keep their dog leashed in an area where leash laws apply.
Talk To One Of Our Douglasville Dog Bite Attorneys Today
If you're in Georgia, you've suffered an injury after being attacked by a dog or another type of pet, you'll want to get proper medical attention as soon as possible. You're at risk of infection if you don't treat your dog bite. Once your injuries have been treated, you want to reach out to Douglasville personal injury lawyer at the Law Office of John B. Jackson. Our experienced legal team will be able to help you to decide whether or not you should pursue a personal injury claim
Our expert attorneys have worked with hundreds of people that have bitten by dogs. If you have a strong case, we'll fight to make sure you receive the funds you're owed. Dog owners are responsible for caring for their pets, and that responsibility includes protecting others from their pet's aggressive behaviors. If you've been attacked because of a dog owner's negligence, you should consider filing a lawsuit. Contact our law offices today if you'd like to find out more about your options.