If you recently sustained injuries in an accident with a bicycle caused another person who was acting recklessly or negligent, our compassionate and professional Douglasville bicycle accident attorney at John B. Jackson Law Firm can represent you and take on your case today. If you were riding your bicycle and another driver has caused you harm, you might be able to claim compensation for the injuries you have sustained. Contact us today, so that we can review your case with a Free Consultation.

What Steps Should I Take After I Was Hit By A Car While Riding A Bicycle?
If a car crashed into you and your bicycle, you should be treating this accident in the same way as you would in a car accident. Try your best to document what has happened. If you are able to make a call, immediately call 911. Wait for the police to arrive to write up a report, and they should also assist you in getting the medical assistance that you need. Take photos of the vehicles that were involved, along with what your bike looks like, the accident scene, and anything else that you believe may be relevant to your accident. Also take photos of any visible injuries such as cuts, scrapes, and bruises. If there were any witnesses at the time, ask them for their contact details. The next step is to ensure you obtain the medical care that you need. From here contact a Douglasville personal injury lawyer.
Here at John B. Jackson Law Office, we have a team of our own specialists and investigators in order to establish and prove liability. We also communicate with the insurance companies on your behalf.


We recommend that you don't sign any documentation that the insurance company gives you. You should also avoid giving a statement that will be recorded. Keep in mind, that the main aim of most insurance providers involves settling fast and to pay out as little as possible. Legally in the state of Georgia, no person or company has the right to find out whether you have your own health insurance or not. The insurance company also has no right to access your medical history which they will try to use unfairly against you.
What Type Of Personal Injury Claim Can I Make For A Bicycle Accident Claim?
All accidents are linked to 2 claim types:
Property Damage Claim
These claims assist you in reclaiming the costs to either repair or replace your bicycle.
Bodily Injury Claim
This type of claim is used to recover any lost wages, your medical expenses, along with pain and suffering.
What Can I Do If My Bicycle Accident Was A Hit-And-Run?
It is very important that you remain calm after a hit-and-run accident. This might not be easy as you might be injured and you are most probably extremely angry that the person that caused the accident has left the scene. In this situation, you need to collect any information that you can. For example, the color and model of the car, and if possible the license plate number. If there were any witnesses at the scene of the accident, make sure you take down their details. This type of information might prove to be very valuable at a later stage. Any form of vehicular accidents that involve hit-and-runs is regarded as an act that is criminal in the state of Georgia. It is important that you contact the Douglasville police department immediately.
What Will Happen If It Was An Issue With The Road That Caused My Bicycle Accident?
When your accident was caused by a code violation or negligence by either a municipality or city, you might be able to claim for compensation. If your injuries were sustained on private property, the person that is liable would then be the business or property owner.
Common defects often include:
Malfunctioning traffic lights
An uncovered meter or drain
Potholes
Foliage that has obstructed a traffic sign
Once again, it is important to take down all the information that you can. Take pictures of the obstruction that you hit. If the traffic lights are malfunctioning, video the timing and sequence of the defective light. Take down the details of any witnesses. If your accident occurred just outside a business property, then the owner might also be able to give you information on how long the problem has been there. If anyone else has also sustained injuries due to this same problem, then your case will become even stronger.
Will The Insurance Policy Of The At-Fault Driver Cover My Claim For A Bicycle Accident?
If a driver of a vehicle is responsible for causing you harm, then you become eligible to go after the insurance policy of the at-fault driver. If you were involved in a hit-and-run accident and your bike or you sustained damages then your uninsured auto coverage might apply. Bicycle accidents are very similar to car accidents in many ways. Keep in mind that most insurance carriers try and settle as quickly as possible and attempt to come out with a favorable deal for their company and not for you.
Avoid speaking to any of the representatives of the insurance companies, this will also include your insurance company until you have legal representation. Also never agree to a conversation that is recorded when you do not have legal representation. Allow our car accident lawyers to deal with the insurance companies for you to make sure your compensation will actually cover the costs of your damages.
What Am I Able To Do When the Driver That Is At-Fault In My Bike Accident Is Uninsured?
You may be permitted to file what is known as an underinsured or uninsured claim through your own insurance provider when you have underinsured or uninsured motorist coverage. Your policy coverage may apply because you collided or crashed into a vehicle when the accident occurred.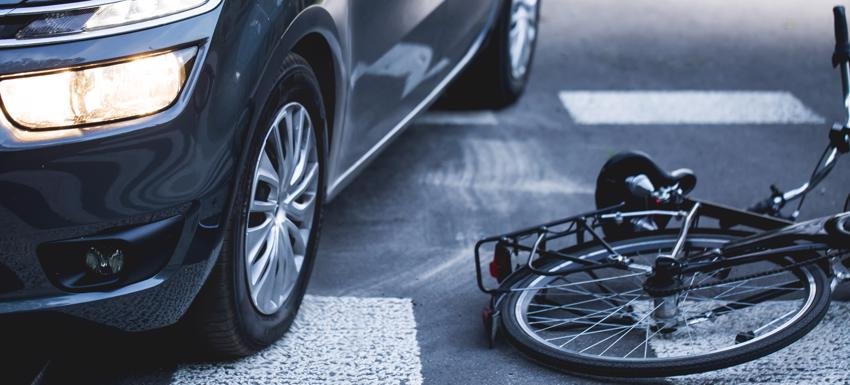 Underinsured and uninsured motorist coverage which is also called UM Coverage, is not a requirement under Georgia law. You are required to have liability coverage and this means when you were at fault, then the other person involved in the accident is protected. We strongly advise that every person invests in UM Coverage which provides you with protection from these types of drivers.
Can A Family Member Of A Person That Was Killed In A Bicycle Accident File A Claim?
Yes, you can definitely file a claim when your loved one or one of your family members was killed in a bicycle accident. This type of claim is known as wrongful death. There is no replacement for losing a loved one, but the laws do permit you to become eligible for financial compensation. When another person is found at-fault for the death of your relative, you have the right to pursue compensation under Georgia law. This is known as the "full value of the life of the decedent", which is based upon the professional status, education, and the age of the deceased. Our lawyers aim to recover all accumulated medical expenses, the future income that we are able to prove that will no longer be earned, and for your pain and suffering.
Call Our Expert Douglasville Bicycle Accident Lawyers Today!
Our experienced team of Douglasville personal injury attorneys at the Law Office of John B. Jackson, are here for you to work on successfully recovering the damages for your physical injuries and property damage. The property damage claim may assist you in paying to replace or repair your damaged bike along with any other bicycle equipment. The damages for your bodily injuries can compensate you for your lost wages, medical costs, and pain and suffering. If we are unable to assist you in recovering any damages, you might not be liable to pay for your legal fees. To discuss your case with a well-versed Douglasville bicycle accident lawyer, call us today so we can schedule your first consultation for free.