Having legal representation makes all the difference in an injury case. But so many victims prefer to represent themselves for the fear of expensive legal fees. So, how much does it cost to hire a Carrollton personal injury attorney?
You could pay a few thousand dollars, tens of thousands of dollars, or nothing. Depending on the law firm's policy, your lawyer may not demand an initial payment and will wait until they conclude the case to get paid. This article discusses how much it costs to hire an attorney, but first, let's look at elements that influence these fees.
Factors that Influence a Carrollton Personal Injury Attorney's Fees
No two personal injury cases are the same. Each one has its peculiarities, no matter how similar they seem. This also applies to lawyer fees.
Lawyer fees emanate from the nature of every case. The peculiarities form the considerations that determine what an attorney will charge.
When you bring your case before a Carrollton personal injury attorney, they determine several factors before deciding how much to charge. Let's see what these elements are.
The cost of legal services isn't the same as the lawyer's payment. There are several costs the lawyer incurs in getting justice for you. Firstly, some law firms will have to pay every staff that works on your case, chief of whom are the paralegals.
Secondly, the lawyer will most likely incur expenses during the investigation stage. They will have to pull out every necessary document related to the case, such as the police report.
If the case requires litigation, your Carrollton personal injury attorney may need to track the eyewitnesses. Meeting with these witnesses may require a lot of transportation costs. The deposition also costs money since a hired stenographer must be present.
Thirdly, there might be a need for an expert witness. Expert witnesses are essential for auto accidents and medical malpractice cases. Securing the testimony of an expert is expensive.
A standard fee for a specialist testimony costs hundreds of dollars or thousands of dollars in more serious cases. Some cases may require multiple expert testimonies to have a solid footing.
Finally, there are also court costs that your lawyer must pay before receiving a hearing date. Court costs include the filing fee for the case, juror fees, and the service of summons to the opposing party. Your Carrollton personal injury attorney will estimate these costs and either separate them or add them to the lawyer fees.
Personal injury cases may take a few weeks to over a year to resolve. Several factors are responsible for the duration of a case. However, the primary reason for an extended compensation recovery process is a breakdown of negotiations.
The at-fault party's insurance company may not be sufficiently convinced that you deserve compensation. In other cases, the insurance company may offer you less than what you can settle for.
In these cases, your Carrollton personal injury attorney will have the courts as the only option for recovering your compensation. However, a court process will take months, even more than a year, to give a judgment.
Therefore, expect a case with a longer duration to cost more than one which saw a speedy resolution. Cases that end at the negotiation table will cost less in legal costs and legal fees.
Your Carrollton personal injury attorney can tell the degree of difficulty of each case. How likely it is to end at the negotiation table or litigation. An experienced lawyer will estimate how much work every case will require. One way to know is through your degree of fault in an accident.
The degree of blame is the percentage of your responsibility in an accident. Every state prescribes how a degree of fault will impact an injured person's right to compensation. For example, Georgia law (comparative negligence) only allows injured persons with less than 50% fault to access compensation.
Even when eligible for compensation, the higher the degree of fault, the more challenging it is to recover payment. Also, the more work and ingenuity that the case will require. This means more work for your legal team and more lawyer fees.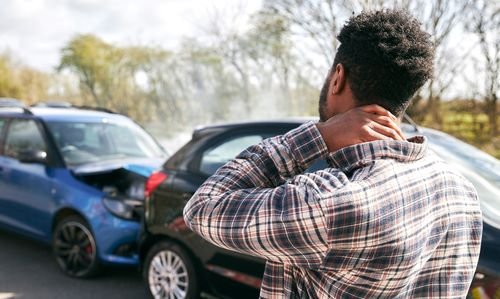 How Do Personal Injury Lawyers Get Paid?
Personal injury lawyers may use one of the following payment options when taking on a new client.
In an hourly payment system, you will agree with your Carrollton personal injury attorney to pay a certain amount for every hour of work they put in. For example, if your lawyer puts in 100 hours of work under this agreement and charges $200 per hour, your fee will be $20,000. Hourly payment is pretty expensive, so few personal injury lawyers use it.
Injury lawyers estimate their total fees in the flat fee payment system. For example, your lawyer can charge a flat fee of $35,000 to represent you. In such cases, you pay the money at once; else, the attorney will not handle the case. This is why the flat fee is also not a popular option.
The contingency fee system is the most widely used payment system for legal representation. In this system, your Carrollton personal injury attorney will begin work on your case without receiving any amount in lawyer fees—no upfront payment. Instead, your attorney gets paid a percentage of your compensation.
Typically, lawyers will charge 30% to 40% of the compensation amount if a case goes through litigation. However, many lawyers prefer to leave it at 33.3% or one-third of the compensation. The percentage is lower and often in 15 to 25%  for cases that end at the negotiation stage.
What if you do not win compensation? Then lawyers will demand the legal costs and nothing else. So you won't have to pay anything in lawyer fees, but you'll settle the expense receipts out-of-pocket.
Hire a Carrollton Personal Injury Attorney at John B. Jackson for Expert Representation
At the Law Office of John B. Jackson, we love fighting for injured persons; and we are good at it. We won't charge you any initial fees, and we won't get paid until you do. We have provided hundreds of injury victims with a better chance at securing compensation for many years. If you want lawyers who are good listeners, you should give us a call now.
Our Carrollton injury lawyers will relieve you of the stress of pursuing a settlement and allow you to focus on getting better. Not only that, our professional diligence and experience will work for you. After our free case review and a go-ahead from you, you can rest assured that your compensation hopes are in safe hands.