When you have suffered serious injuries due to someone else's carelessness or recklessness, you are entitled to claim compensation from the responsible party as per Georgia Law. Personal injury law in Georgia is quite complex, and you need to hire the best Tallapoosa personal injury lawyer to handle your personal injury case and obtain maximum compensation for your damages. With a host of injury attorneys functioning in the region, choosing the best lawyer may not be easy. Your research plays a crucial role in picking the right service provider for your case.
The Law Office of John B. Jackson is a trusted name when it comes to handling different types of personal injury cases including road and workplace accidents. We understand there are dozens of injury lawyers out there than ever before, and clients have a number of choices when deciding to hire the best personal injury lawyer to handle their cases.
Our lawyers need to stand out from the rest of the competition for you to choose us as your lawyers. That's why we assign a highly qualified attorney to handle your case, unlike other law firms. In fact, a lot of law firms in Tallapoosa may advertise the attorney, but you may end up dealing with a paralegal or secretary during your lawsuit.
Our team of specialized personal injury lawyers knows that your case is likely the most important matter in your life right now. That's why we are prepared to walk that extra mile to satisfy the needs of our clients. Call our Tallapoosa injury firm at (770)988-6155 to handle your personal injury case and obtain maximum compensation in the process.

What You Need To Do After An Accident Or Injury
Whether you are involved in a workplace, auto, or any other kind of accident and injured as a result, there are many steps that you need to take after the incident.
The first step is to get medical treatments for your injuries – no matter how minor the injuries may be. Keep the medical records and bills to produce when filing the personal injury lawsuit.
Call the police and report the incident. Get a copy of the police report when it's available with the local police station. The police report may help the lawyer to prove the negligence of the other party when filing your claim.
Video the accident scene or take photos. This is an important step when you are injured in whatever accident. It can help your lawyer when proving your case.
Get the names, telephone numbers, and addresses of witnesses who were present during the accident.
Call a personal injury lawyer in Tallapoosa, GA, to handle your case. You should also remember to never admit fault for the incident without speaking with your lawyer.
Why Do You Need A Personal Injury Lawyer?
A specialized Tallapoosa personal injury lawyer can help build a strong case and claim maximum benefits on your behalf. They will prepare and file the lawsuit in a way that you have the best chances of winning maximum compensation for your injuries. The lawyer has extensive experience in negotiating with insurance providers and getting you the rightful compensation you deserve. If the insurance provider fails to offer you the rightful compensation, our lawyers will take your case to trial to obtain maximum benefits for your damages.
What Are The Types Of Damages You Can Recover?
You are entitled to recover three types of damages for your injuries. In fact, GA law lets you recover economic, non-economic, and punitive damages. Economic compensation pays for medical bills – past/present/future lost income due to injuries, nursing care, physical therapy, and loss of quality of life.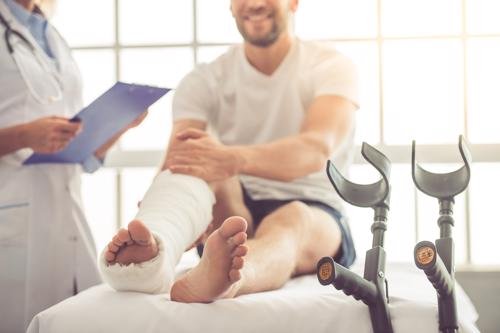 Non-economic compensation includes mental distress, emotional counseling, and loss of companionship. punitive damages in Georgia are designed to punish the at-fault party for his/her reckless actions that caused the damages to you. Punitive damages also help deter other people from behaving the same way.
How Is Liability Determined In Georgia?
Georgia practices comparative negligence where the parties involved in the accident can claim damages based on their involvement in the accident. For example, if a victim is found to be 20% responsible for causing the accident, GA courts will decide to offer only 80% of the compensation amount. Here are four important elements you should prove to win compensation for your damages.
The party that's responsible for the accident has a duty of care to behave responsibly and carefully
They didn't uphold the duty of care
The breach of the duty of care was responsible for the accident
The victim was injured as a result of the accident
How Much Time Do You Have To File A Personal Injury Case In Georgia?
You have two years to file the case before the statute of limitations of Georgia comes into effect.
How Much Will A Tallapoosa Lawyer Charge?
The personal injury lawyers at The Law Office of John B. Jackson work on a no-win-no-fee basis where you don't have to pay the lawyer anything until he wins your case. When your case is won, the lawyer will charge a percentage of your compensation amount.
Types Of Personal Injury Cases Handled At The Law Office Of John B. Jackson
We handle a wide variety of personal injury lawsuits including:
Premises Liability
When you are injured on the premise of another party while on a legal visit, it's known as a premises liability case. Slip and fall accidents are the most common premises liability cases handled by The Law Office of John B. Jackson.
Medical Malpractice
Medical malpractice is when a doctor, nurse, hospital, or any other person in the medical field is responsible for causing injuries or death to a patient due to inferior quality or irresponsible care. Our lawyers have experience in handling such cases.
Dog Bites
When you are attacked by a dog due to the negligence of its owner, you can claim damages from the owner of the animal. We will handle your case and obtain maximum compensation for you.
Schedule A Free Consultation With A Tallapoosa Personal Injury Lawyer
When you are injured in an accident due to another person's fault, you can claim compensation from the responsible party. You need to hire the best personal injury lawyer to handle your case. Call The Law Office of John B. Jackson in Tallapoosa GA at (770)988-6155 to handle your personal injury case and obtain maximum compensation in the process.