If you are in the state of Georgia, and you are currently facing a Worker's Compensation problem, you may need a workers' compensation lawyer to help you resolve the situation. After sustaining injuries that may make it impossible for you to return immediately to your job, it may necessitate filing legal action. It could have been a life-threatening situation, one that could end your career, and you will need medical attention to help you get back to normal. If this is a situation that you are currently experiencing, and you need insight on what to do next, you should contact a Workers' Compensation lawyer today.
Our LaGrange injury lawyers at the Law Offices of John B. Jackson have assisted many injured workers in Lagrange navigate the sometimes complicated workers' compensation process.  Call today at (770) 988-6155 to schedule your Free Consultation.

What Should You Do If You Are Injured On The Job?
There are initial steps that must be taken if you are injured at your job. This will include telling your employer what has occurred. It is important to get medical attention immediately after the incident. Once you have been examined by the doctor, you must then follow their instructions. Throughout this entire incident, you must keep a written record of what has happened, the injury, and the symptoms that occur during and after the event.
It is important to take photos of the injury that you have sustained if they are noticeably visible. This is to gather evidence. You will then need to file a Worker's Compensation claim, preferably with the assistance of a Workers' Compensation Lawyer that specializes in Georgia Workers Compensation law. This will allow you to recuperate and rest while your attorney can proceed forward with legal actions that may be necessary due to your situation.
Reasons To Hire A Lagrange Workers' Compensation Lawyer
In these situations, which will not be familiar to you, you may not know what steps need to be taken. A Workers' Compensation lawyer in Lagrange will have worked with other individuals before that have gone through similar or even the same situation. They can assist you with their legal knowledge, and also file papers that may be necessary to help you keep your job or obtain some type of restitution. Without their help, you would not be able to proceed forward in a manner that would be the most advantageous for you.

Is It Expensive To Hire A Lagrange Georgia Workers Compensation Attorney?
In the state of Georgia, workers' compensation attorneys work based upon a contingency fee. You will not pay an upfront fee or retainer fee to work with them. According to Georgia law, they can receive a fee for not more than 25% of your settlement benefits.
What If Your Workers Comp Claim Is Denied?
Once you receive word that your workers' compensation claim has been denied, you can meet before the State Board of Worker's Compensation. You must request a hearing, and during this event, the Administrative Law Judge in Augusta will listen to your case. If you are not able to convince them to provide you with workers' compensation benefits, you will then need to seek legal counsel.
Is There A Timeframe During Which You Must File Workers Compensation?
The state of Georgia is slightly different from other states regarding the statute of limitations for workers' compensation benefits. It only provides you with one year by which to file your claim, specifically one year from the time in which the accident occurred.
Is It Possible For Independent Contractors To File Workers Comp Claims In Georgia?
According to Georgia state law, independent contractors are not regarded in the same way as regular employees regarding Workers Compensation. They are not eligible for workers comp, and therefore cannot file for workers compensation. They must be either a statutory employee or an employee of that company. This is because the employer can control the manner in which the work is done if they are employing a person. Independent contractors are not required to follow these set guidelines, and therefore could not be considered for workers comp.
What Is A Lagrange Worker's Compensation Claim Worth
In terms of weekly payouts, a worker in Lagrange Georgia can qualify for up to $675 per week. This number is based upon two-thirds of their actual income, allowing the possibility for this number to vary considerably. This could then lead to receiving temporary partial benefits if you return to work. In terms of the settlement, the average employee will receive $20,000, yet it can be much more or less in the state.
What Will A Workers Comp Claim Pay For In Georgia?
A Worker's Compensation claim will pay for many different things. This includes lost wages, medical expenses, and compensation for any disability that a person may have as a result of the work-related injury. It will not pay for any type of suffering or pain that has been caused due to the injuries. To receive non-economic damages, that must be acquired through a separate personal injury claim. However, if you go through rehabilitation to get back to normal, this will be covered.
Any medically prescribed pharmaceutical drugs will be paid for through this claim. Travel expenses, specifically those to and from your medical appointments, will also be paid through workers comp. There is something called PPD which will also be covered through workers comp. Permanent Partial Disability refers to money that is authorized to pay for issues that a person may have as ordered by their physician.
This follows guidelines that are set up by the American Medical Association Guidelines, or Georgia statute O.C.G.A. 34-9-263. This refers to injuries that may include the partial loss of their body, or the use of their body, or the complete loss of an aspect of their body. As long as this can be determined as an on-the-job injury, they will receive compensation for this as well.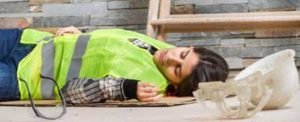 How Does PPD Differ From Worker's Compensation?
This differs from Worker's Compensation because of how it will pay for injured body parts. There is a formula that is used to determine how much money a person can receive based upon the severity of injury on the injured body part. That amount is based upon guidelines presented in the Guides to the Evaluation of Permanent Impairment. Each body part is assigned a particular value.
This will include parts of their upper extremity including their arms and elbows. It will also have guidelines for compensation for their hands, fingers, thumb, foot, and lower extremity injuries. The amount of compensation is given a timeline, specifically weeks of compensation that the injured person will qualify for. This can become complex, as well as any aspect of Worker's Compensation law in Georgia. That is why it is essential that you work with a qualified Lagrange Worker's Compensation as soon as possible.
Contact a LaGrange Workers' Compensation Lawyer for a Free Case Review
If you would like to speak with a Workers' Compensation Lawyer in Lagrange Georgia, the Law Offices of John B. Jackson will be willing to listen to your case. Without proper legal representation, it could be difficult to proceed forward if you have recently been denied your workers' comp claim. You can contact our office by phone at (770) 988-6155 or visit our website and utilize our chat and web form services.