Accidental injuries can occur at any time, and when they do, they usually result in debilitating damages. Chances are that your injuries may need medical attention, lengthy recuperating times that can hinder you from fulfilling obligations, and permanent disabilities that can affect your quality of life. If you or a cherished one has been the victim of a personal injury in Georgia you may need the services of an experienced Hogansville personal injury lawyer to hold the at-fault party culpable.
We are confident in our abilities and will provide you with effective and dedicated legal representation that gets you results. Our Hogansville personal injury attorneys at the Law Offices of John B. Jackson will assist you to determine the kind of personal injury case you've got, the types of damages you can pursue, how much you can expect to get, and so on. If you want to jumpstart legal proceedings, call our personal injury firm NOW at (770)988-6155 to book a complimentary consultation and case review.

What Should I Do After An Injury?
After suffering an injury taking these steps can greatly help your claim:
Get Medical Treatment If Needed and keep records of all treatment
Take Photos/Video If You Can
Get names and numbers of any witnesses
Report the Incident (call the police if it's a vehicle accident, report workplace accidents to supervisors etc.)
Never Admit Fault
Call a Personal Injury Lawyer!
How Can A Hogansville Personal Injury Lawyer Help?
Our attorneys can help your claim through their experience in:
Case Preparation / Filing a Lawsuit
Settlement Negotiation
Trial Preparation & Representation
What Types Of Damages Can I Recover Through A Personal Injury Claim?
Economic: These damages are monetary. Examples include: loss of earning capability, medical bills, lost wages, etc.
Non-Economic: These damages are more of a non-monetary nature. Examples include loss of consortium, emotional trauma, pain and suffering, and so on.
Punitive: These damages are meant to act as a deterrent to would-be perpetrators. You can only seek them after you have successfully won either economic or non-economic damages. You must prove the negligent party acted with malicious intent.
How Is Liability Determined?
Duty of Care: The defendant had a duty of care to fulfill their obligation in a manner an otherwise sensible individual would when subjected under the same circumstances.
Breach of Duty of Care: The claimant must prove that the defendant was in breach of their obligation.
Causation: An accident resulted because the defendant failed to meet their obligations, which led to you sustaining injuries.
Damages: You must prove that the injuries suffered were directly caused by the accident.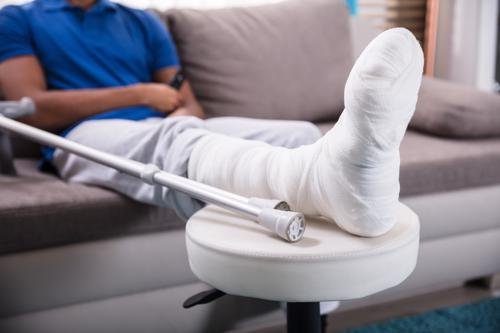 Does Comparative Negligence Apply
Georgia follows a revised comparative negligence principle. If the claimant was partially at-fault for the injury, S/he will be eligible to receive reimbursement if they were 49% or less liable for damages suffered. The courts will establish the claimant's percentage liability and deduct it from the total settlement amount. If the plaintiff is found to be 50% or more liable for the injury, S/he will lose their grounds to seek recompense.
How Much Time Do I Have To File A Personal Injury Claim In Georgia?
When you have sustained an injury as a result of somebody else's recklessness, you deserve to be reimbursed for damages suffered. However, there's a time limit allowed by law for you to file your personal injury claim. As per the Georgia Code of Law, you have two years following the date of injury to file your lawsuit. If this time lapses, your claim will be considered void by the court.
How Much Will A Hogansville Personal Injury Lawyer Cost?
Considering that the accident wasn't your fault, we understand that you may not have the financial freedom to weather this difficult period in your life. Don't worry, we are compassionate attorneys who understand that this situation is not of your own doing, which is why we work on a Contingency Fee basis. To retain our legal services, we won't charge you any upfront costs. We only get paid after winning your personal injury case.
Types Of Personal Injury Cases We Handle At John B. Jackson Law Firm
A premises liability case is when a property owner is responsible for damages caused as a result of injuries occurring on the premises. Premises liability cases take up most of the personal injury claims. Our seasoned Hogansville, Georgia, personal injury attorneys can recognize these kinds of accidents are the fault of the property owner, not the accident victim being dubbed 'clumsy'. Some of the injuries sustained may include:
Bodily harm as a result of slip and falls
Bodily harm resulting from food poisoning
Bodily harm from being stabbed or cut
Bodily harm happening from something striking or falling on a person
These can prove to be debilitating conditions that result in persistent conditions such as spinal injuries, muscle injuries, fractured bones, and injuries to the head and neck. These injuries mostly happen due to poor lighting, slippery floors, food not handled appropriately, and walkways not being even.
Contact an Experienced Hogansville Personal Injury Attorney at the Law Office of John B. Jackson
Serious destruction and damage can easily result from somebody else's inattentiveness and carelessness and may need the services of a seasoned Hogansville personal injury attorney. We believe that nobody should ever have to deal with the repercussions of somebody else's negligence. We are on your side and will stop at nothing until you get your deserved recompense.
We are among the top personal injury attorneys in Georgia who guarantee to give you the trial experience you need to receive your reimbursement quicker. We have recovered more than $10 million worth of damages for our clients in Hogansville, Georgia, so you can be sure that we will do our due diligence when it comes to your case. You can get in touch with us at the Law Office of John B. Jackson at (770)988-6155 to get an initial consultation and case review at no cost. We are always available 24/7/365 whenever you need our help.