In a workers' compensation claim case, an experienced workers' compensation lawyer is essential because they provide professional legal advice that ensures you get the right compensation. You will be more likely to receive the benefits if you choose an experienced workers' compensation lawyer as they will help you navigate the legal world that you may not be familiar with.
If you work for an organization that recognizes you as a statutory employee, you are eligible for compensation if you get an injury at work. Your employer should notify the insurance company and have them compensate you. You should receive the benefits once the insurance company ascertains that you have indeed been injured while at work. Unfortunately for many employees, the insurance companies often deny such claims and leave the employees stranded.
Are you a resident of Canton, Ga, that has a workers' comp case and needs an expert in such claims to help you file one? John B Jackson has the answer. Call our office today to get experienced Canton injury lawyers that have handled numerous workers' compensation cases and gotten our clients the compensation that they deserve.
Call us today at (770) 988-6155 to speak to the legal experts and start the procedure on filing your workers' compensation claim.

What Should I Do If I'm Hurt on the Job?
Inform your employer that you are hurt. If possible, have it in writing. Make sure that you are reporting the incident to your supervisor and not a fellow employee.
Have a doctor take a look at you as soon as it is possible. Make sure that you follow the doctor's instructions. Your employer should provide a list of physicians that are approved. It is also advisable to notify your employer if the doctor excuses you from work indefinitely.
Start a written record of your injury and symptoms. It will be key in determining if the injury was caused by the accident at work or if you have an underlying condition that affects the current injury.
If you have visible injuries, take photographs of them. They are useful when you have to present evidence to the company's insurer.
File a workers' compensation claim with the help of an experienced workers' compensation lawyer. Make sure you do this as soon as possible to avoid any problems during the procedure.
Rest and recuperate as your lawyer represents you through the process.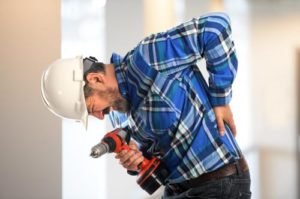 Why Should I Hire a Canton Workers' Compensation Lawyer?
To Help With Filing The Claim
An experienced workers' comp lawyer will ensure that you have correctly worded the claim so that there are no clauses that might cause a denial of the claim. A lawyer is also beneficial if you are receiving a lump sum as a settlement because they can have the payments made in small amounts throughout your life if that is preferable to you.
Representation In Court
Should your case proceed to court, your lawyer will be able to represent you adequately. If for instance, your injuries are preventing you from going to court, you can be certain that the lawyer is representing you and that you will get your benefits. Most insurance companies look for the easiest way out of the settlement which means that they can try to bury you in legal paperwork. Without any representation from a legal expert, you may feel frustrated and take the first offer. A lawyer prevents this from happening.
Arranging Your Settlement
A lawyer will help during the settlement negotiations with the insurance company. Most times they might want you to look like you are to blame for the injury so they can avoid fulfilling their part in paying the claim. Your lawyer will be able to come up with strategies to ensure the insurance company does not come up with any tactics to deny your claim.
Sorting Out Any Related Legal Issues
Workers' compensation cases are not always clear cut. You may find that your employer is not the only party responsible for your injuries. If the information comes up during your case, you will need the help of your lawyer to navigate. Your lawyer will be paramount in filing a third-party negligence claim. With their experience, you will manage to go through the tricky legal parts of the case and get the compensation owed by all the parties responsible.
How Much Does it Cost to Hire a Canton Workers' Compensation Lawyer?
In Canton, Ga, the contingency fee for a workers' compensation case is usually 15% to 25% of the compensation received. You will be charged according to the resources and time needed to file a successful claim. The state does not allow the charges to surpass 25% of the settlement.

What Should I Do if My Workers Compensation Claim is Denied?
If your claim is denied, you should file a request so that your case can be presented before the State Board of Workers' Compensation. A state judge will decide if your injuries were sustained at work and whether you should receive your claim in Canton.
Is there a Time Limit to File a Workers Comp Claim in Canton, GA?
Yes. You are required by Georgia law to file a claim within a year of the injury. It is important to note that the law states that an employee who wishes to file a workers' compensation claim has to report the incident that caused the injuries to the supervisor within 30 days of the occurrence.
Can an Independent Contractor File a Workers Comp Claim In Georgia?
No. Only statutory employees are allowed to file for workers' compensation in the state of Georgia.
What is My Canton Workers Compensation Claim Worth?
Your lawyer will take certain factors into account while calculating how much your claim is worth. These are such as how much time and resources are needed, if your injuries are permanent, among others.
Workers' comp will pay for;
Your medical bills for treatment by approved physicians
Any costs of rehabilitation
A percentage of your lost wages
Prescription medication for the injuries
Any travel expenses that are related to the treatment of your injury.
Any necessary travel expenses related to the treatment of your injury
Your income loss replacement benefit. This is two-thirds of your average weekly wage (with a cap of $575 per week)
Permanent Partial Disability as well as an extra amount if the approved physician treating you gives a disability rating in compliance with the American Medical Association Guidelines.
Contact a Canton Workers' Compensation Lawyer at John B. Jackson Law
Call the Law Offices of John B Jackson at (770) 988-6155 today and get the help of an experienced workers' compensation lawyer for your worker's compensation claim.