A car accident can permanently change your life and that of your family in an instant. Depending on the seriousness of your injuries, you can be left picking up the pieces many years after the accident. Having to deal with severe physical injuries, emotional trauma, and financial hardships can make life extremely difficult. Fortunately, Georgia State Law provides some level of protection to victims of car accidents caused by the negligence of another party. If you have been injured in a car accident in Bowdon, GA now is the time to contact a Bowdon car accident attorney.
In the unfortunate event that you or a loved one sustain serious injuries as a result of a car accident caused by the poor decisions of someone else, you are entitled to seeking financial compensation for your injuries and losses. However, securing this compensation isn't always as straightforward as you might expect. There are many legal complexities and procedures involved. In addition, you may face strong resistance from the at-fault party and their insurers and lawyers. This is why it is always recommended to retain the services of a skilled attorney who has in-depth knowledge of the prevailing state laws in Georgia.
Our team of experienced and compassionate Bowdon personal injury attorneys at the Law Office of John B Jackson understands what you are going through during this time and is prepared to provide you with the best legal representation. We will not rest until we ensure that you are fully and fairly compensated for all your damages. We have what it takes to effectively handle your claim and fight for your case in court if need be. Get in touch with us today at (770) 988-6155 to speak to one of our experienced attorneys.

How Much Does A Car Accident Lawyer Cost?
Understandably, after being involved in a car accident, you might have many questions running through your mind. Among these, may be how much hiring an attorney will cost you. Many accident victims fail to get the compensation that they deserve and end up having their rights trampled by foregoing the services of an attorney.
What most victims don't know is that a lot of auto accident lawyers operate on a contingency basis. This means that the attorney only collects a fee after they have secured a favorable settlement or verdict for your claim. The Bowdon car accident attorneys at the Law Office of John B. Jackson operate on a contingency basis to meet our clients' best interests.
What Should I Do After A Car Accident?
After a car accident, take the following steps to help preserve your claim:
Contact Police
Calling the police is highly important after being involved in any car accident, especially if it involves injuries, death, drunk driving, and/or property damage. You will need them to file an official police report and conduct an investigation to determine fault.
Check On Other Involved Parties (Do Not Leave!)
You should not leave the scene of the accident unless the police allow you to do so. As you wait for the responding police officers to arrive at the scene, take a look around to check if everyone else involved in the accident is alright. Contact emergency responders if there is anyone in need of urgent medical help.
Exchange Info
Gather the names, contact details, license plate numbers, and insurance information of the other drivers involved in the accident. You should also provide them with yours.
Record The Scene
It is important to have an accurate record of everything you witnessed for later purposes when filing your claim. So, take as many photos and videos of the scene of the accident as you can. Take pictures of your injuries, damages to the vehicles, and other important evidence. Also, make notes of crucial details that may help your claim. Talk to any available;e witnesses and collect their names and contact details.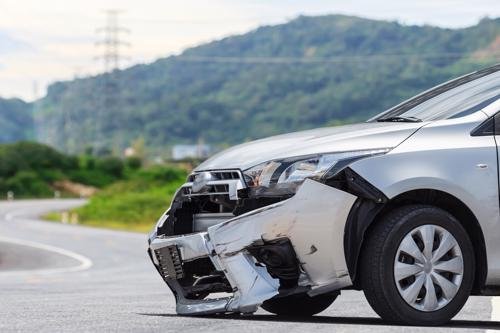 Never Admit Fault
Resist the urge to apologize or admit fault for the accident regardless of who you think might be at fault as this can jeopardize your right to pursue compensation.
Seek Medical Attention
Whether or not you feel fine after an accident, you should visit a medical professional to have a full body examination. This will not only help to reveal any hidden injuries but will also ensure that your injuries are documented.
Call A Car Accident Lawyer!
Once you've received medical treatment, you should contact an attorney as soon as possible who will get started documenting and working your claim. Your attorney is your best ally during this time, and will help to ensure that your rights are protected. You will find no better advocate for your rights than the Law Office of John B. Jackson.
Why Do I Need A Lawyer?
Our attorneys can help your injury claim through their experience with:
Assessing Your Case
An attorney will help you to determine whether you have a valid case and the potential damages you might be owed. Your attorney will assess the unique details of your case and guide you on the best course of action.
Conducting Investigations
You will need sufficient and quality evidence to support your claim. Gathering this evidence can be quite difficult to do on your own, especially when dealing with injuries. The Bowdon car accident attorneys at the Law Office of John B. Jackson will work with expert witnesses and gather as much evidence as possible to thoroughly assess your claim and prepare the best presentation of facts in support.
Preparing A Settlement Demand Letter
A demand letter is a crucial document that provides all the important facts of your case to the insurance company. By drafting a demand letter, your attorney ensures that the insurance company takes your claim more seriously.
Handling Negotiations
Your attorney will handle all negotiations with the insurance company to ensure that a favorable settlement agreement is reached. Your attorney is aware of all techniques and tactics used by the insurance companies to shortchange victims. This allows them to fight hard to not settle for less than the full amount to which you are entitled.
Filing Proper Paperwork To Take Your Case To Court
While most car accident cases end in settlement, sometimes the attorney may deem it necessary to take your case to trial. He will handle all the required paperwork and ensure that it is filed within the required deadlines.
Your attorney will help fight for your rights before a judge and/or jury and help guarantee a favorable verdict.
How Much Can I Expect To Receive For My Damages?
Determining how much your case is worth can be a bit complex as there are many factors involved. Each car accident case is unique and your attorney will need to consider aspects such as the severity of your injuries, past and future medical expenses, your ability to go back to work, your level of fault, lost earning capacity, and so on.
Keep in mind that Georgia is a comparative negligence state which means that you can recover damages if your percentage of fault is below 50%. But the awardable amount will be reduced according to your level of fault.
What Type Of Damages Can I Recover?
Economic: This refers to tangible financial losses incurred by the victim as a result of the accident. They include medical expenses, lost income, car repair costs, etc.
Non-Economic: This refers to intangible non-verifiable losses suffered by the accident victim as a result of the accident. They include pain and suffering, emotional distress, loss of life enjoyment, etc.


Punitive: These types of damages are not always awarded in car accident cases. Punitive damages are only awarded in cases involving gross negligence, malicious or deliberate acts on the part of the defendant.
The law has put a cap on punitive damages at $250,000.
How Is Fault Determined?
When determining fault in a car accident, negligence is the most important factor to consider. To prove liability or fault in your car accident claim, your attorney will need to prove the presence of the following elements of negligence:
Duty of care: Every motorist has a duty of care to exercise safe driving while behind the wheel
Breach of this duty: The driver acted or failed to act in a manner that another reasonable driver would not have or would have acted in a similar situation
Causation: The injuries were a direct result of the negligence of the other driver and not something else
Damages: You suffered actual damages as a result of the accident
How Long Do I Have To File A Claim?
To avoid losing your right to compensation, you are required to file your claim within two years from the date of the accident. For property damages claims, the deadline is four years from the date of the accident.
What Can I Do If Insurance Denied My Claim?
If you believe that your claim was wrongly denied, there are some options available for you:
You can write an appeal letter to the insurance company specifying why you think the insurer was wrong to deny your claim and provide the necessary supporting evidence
If you believe that the insurance company didn't have a legitimate reason for denying your claim and may have acted in bad faith, you can choose to file a Bad Faith Insurance Insurance Claim. It will be important to work with a car accident lawyer to help you determine if you have a valid case.
Your last option will be to file a lawsuit against the at-fault party
What If The Other Driver Doesn't Have Insurance?
If you get into an accident with an uninsured driver, your first step should be to seek compensation through your uninsured motorist insurance policy. However, if you don't have this coverage, your only option will be to file a lawsuit against the at-fault driver.
Contact An Experienced Bowdon Car Accident Lawyer
If you have sustained injuries in a car accident that was the fault of someone else, it is in your best interest that you seek the assistance of an experienced auto accident attorney. Car accidents can cause devastating injuries that can have a tremendous effect on your life. An experienced car accident attorney at the Law Office of John B. Jackson can help fight for your rights and ensure that you receive the financial compensation you need to regain your normal life. Call us today at (770) 988-6155 to schedule your free consultation.