If you (or someone you know) are a victim of an unprovoked dog attack or bite in Atlanta, consider seeking the services of an Atlanta dog bite lawyer. The accomplished Georgia injury lawyers at the Law Office of John B. Jackson are professional legal experts with experience in handling animal attack claims. We know how to handle such cases and have had great success helping other victims receive the compensation they deserve for their injuries.

As a Victim, How Do I Report a Dog Bite?
The first thing you need to do is contact the police and file a report. If medical care is required, make sure you call 911. Once contacted, the police will go ahead and make an official report. If all does go well, they'll capture the dog(s) and identify the owner. It is also essential that you give Animal Control a call. If you have any injuries, please consider contacting the Law Office of John B. Jackson and let us help you get the compensation you deserve to recover from the trauma and wounds. Also, make sure you get medical care – it is worth noting that even a non-scarring bite could cause serious health problems such as tetanus and rabies.
After I Have Reported a Dog Bite, What's Next?
The actions taken against dogs that bite someone are determined by a variety of things – Has the canine ever bitten another person before? Is it a dangerous dog breed? According to the law, dog owners need to be aware of their dog's propensity to be aggressive or to attack. The only way a suit can be pursued is if there is proof that the dog owner knows his or her pet is aggressive.
For non-aggressive canines, the law allows for one bite without any consequence. This exception is informally known as the 'one-bite' rule. However, this exception doesn't apply to vicious breeds such as wolf hybrids, Rottweilers, Pitbulls and fighter breeds like Presa Canario and dogo argentine. According to DogBites.org, a non-profit group, these two breeds – Rottweilers and Pit Bulls – accounted for almost 74 percent of all dog attacks resulting in death over the last decade. Nevertheless, any dog breed can attack.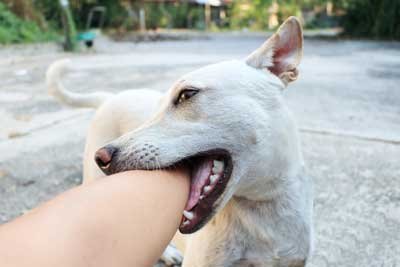 Who Is Held Liable in Dog Attack Claims?
The owner of the dog is responsible for any bite injuries his or her dog inflicts on a person. Ensure that you discuss your case with one of our professional dog bite attorneys at the Law Office of John B. Jackson. As legal representatives, our main goal is to protect victims and ensure that they are compensated for their injuries. We also want to make sure that the dog never injures another person ever again.
How Much are Dog Bite Cases Worth?
Dog bite cases are personal injury claims that seek to recover compensation for necessary and reasonable expenses, pain and suffering, and lost income. In most cases, young women and little children are most injured/damaged by the physical scarring and emotional aftermaths of being attacked by a rabid or uncontrollable dog.

What Do I Do If I Was Bitten While Working at Another Person's Home?
If you were bitten while working at another person's home, then you have a personal injury claim at hand. It is the responsibility of any dog owner to control their dog and ensure they create a safe environment for strangers, and that includes workers. Dogs should be taught not to be aggressive at visitors unless otherwise. If that is not possible, then owners should consider crating the dog when there are strangers in the house.
Even the friendliest of dogs can become overly 'affectionate' and end up hurting someone. You might have a workers' comp case in addition to your third-party claim against the owner of the dog. This case is not that different from being involved in a car accident while at work. Our dog bite attorneys can help you with these claims.
Dog Bite Statistics
According to CDC statistics, about 4.5 million dog bites occur each year in America. Of 5, one of those bites becomes infected. If dog bite wounds are not treated immediately, the chances of contracting infections increase exponentially with some cases even leading to life-threatening complications.
Children are more prone to serious injuries when attacked by dogs. Well over 800,000 people require medical treatment and care each year as a result of bites inflicted during a dog attack. Sadly, about half of all dog bite victims are children.
Some breeds are naturally-aggressive and to be protective of their owners especially when strangers are around. Such breeds are also, most of the time, not well trained, something that makes them appear more aggressive than fellow dogs of the same breed but which have been trained properly. According to research conducted by a dog bite study group about 74 percent of all fatal canine attacks between 2005 and 2014 were caused by Rottweilers and Pit Bulls.

What Does the Law in Georgia Say About Dog Bites/Attacks?
All states have different rules on who can file for a dog bite claim and the conditions to file for one. In Georgia, there is the 'one-bite' rule, which dictates when one can file a lawsuit for compensation. The rule states that dog owners are legally liable for injuries caused by their dog(s) if they know that the canine is likely to attack.
In Georgia, when a dog bites anyone and punctures their skin but doesn't cause serious harm, the dog's owner is required to apply for a certificate of registration as a person who owns a dangerous dog. From this point onwards, the canine is classified as a 'dangerous' animal and the owner is responsible for any of the injuries the pet causes if it attacks unprovoked.
The dog owner is also required to post warning signs on their property regarding the dog and make sure that they set up a secure enclosure for the pet. The rule also applies to canines that attack and kill other pets.
If a dog attacks and causes serious injuries to a human being, the law requires that it be classified as a 'vicious' animal. It is also required that the dog be microchipped and the owner take up liability insurance worth at least $50,000 to cover all injury costs.
If a dog has never attacked or bitten anyone in the past but hasn't been properly restrained (say it escapes from its owner's yard or is not at heel position when being walked by the owner or is not leashed in areas where leash laws apply), the owner can be held responsible for injuries caused by the animal.
Contact Our Dog Bite Attorneys in Atlanta
If you live in Georgia and have been bitten by an unprovoked dog or any other animal, make sure that you see a doctor as soon as you can. Dog bites can be infectious and can be dangerous if not promptly treated. After you've received medical care, then next thing you should consider doing is to contact a dog bite lawyer in Atlanta as soon as possible.
The Atlanta personal injury lawyers at the Law Office of John B. Jackson are experts in personal injury claims and are happy and willing to help you file your claim. Our attorneys are here to listen to your case and advise you on what you should consider doing next.
Our team of lawyers has handled hundreds of personal injury cases similar to yours and can help you get compensated for your pain and suffering. Any person who owns a dog needs to know or learn how to take proper care of their pet, and sometimes, a lawsuit is the best way to learn. Contact us today and learn more about how we can help you get the compensation you need.